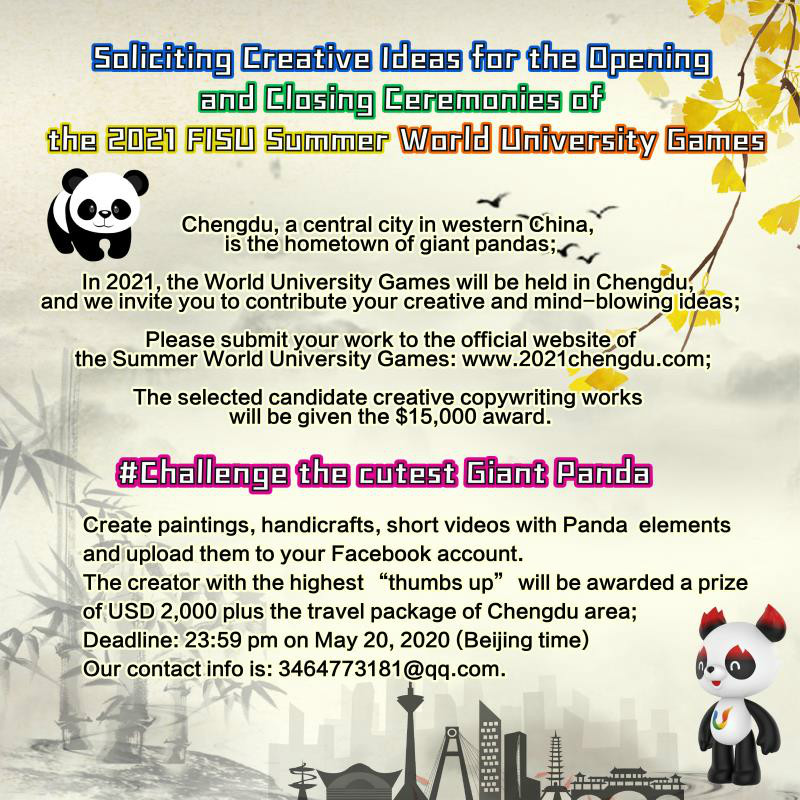 Friends of USA, now come to Facebook to participatein the challenge of "The most lovely panda" !
You can drawthe panda by hand, create the panda by hand or clip the short video regardingthe panda, after the creativity is completed, upload your work to Facebookpersonal account, the creator with the highest amount of praise will find thata $2000 bonus is waiting for you.
"Themost lovely panda" challenge was launched by Tang Xiao, a Chinese Chinesewho lives in USA and works in USA.
This Chinese learned that their hometown ofChengdu, China, will hold the World Universiade in the summer of 2021, theytook the initiative to create and launch the "Best Panda" challengeon the Facebook, hoping that through such dissemination activities so that moreUSA friends know the giant panda, understand China Chengdu, yearning for ChinaChengdu Universiade.
At the same time as the "The most lovely panda"challenge was being delivered, also for the global collection of 2021 Universiadeopening and closing ceremony creative copy, we invited the global youth tocontribute to the opening and closing ceremony of Chengdu Universiade brainhole as well as to provide creativity.
Friends form USA, while challenging the "Themost lovely panda", you can open your strongest brains and create theoverall ideas for the opening and closing ceremonies. You can also create thehot field performance, countdown, the entrance of the torch, the main torchlighting ceremony, light show, art performance, the main torch extinguishingceremony and other aspects. Creative delivery channels:
We hope that your creativity, which will fully showthe international standards as well as the Chinese style along with thecharacteristics of Chengdu; Passion will blossom in the summer of Chengdu inthe year of 2021! If your idea is approved by the judging experts, you willhave a chance to win the RMB 100,000 Award.
The 31st World Summersiade Summer Games will beheld in Chengdu, China, from August 16 to 27 next year, more than 10000athletes from exceeding 150 countries or regions will compete for 18 majorevents, and during the 11 days of competition, which will produce 269 goldmedals.
Chengdu, the hometown of giant pandas and thecentral city of western China, is the consumption center and southwest lifecenter of western China. It is speeding up the shaping of the "threecities and three capital" city brand and building the famous city of worldevents with high standards.
Friends of USA, welcome to Chengdu to fulfill everydream of yours!